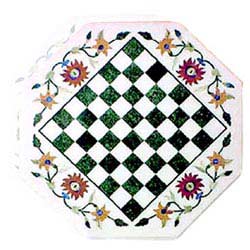 Ask for Price
Normal Inlay Chess Design Table Top
Item Code : AB-MICH-0007
Dimension : 1.9' x 1.9'
Design : Chess
Thickness : 18 mm
Base Stone : White Marble
Area in sq. ft. : 3.06

Inlaid stones create a magical effect on this table top. Chess design, complimented by creeper on the corners, it is the epitome of an artist's creativity.