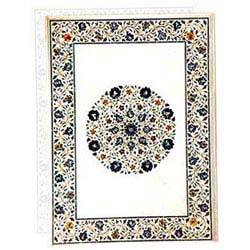 Ask for Price
Rectangular Table Top
Item Code : AB-MIR-0023
Dimension : 2.0' x 2.9'
Design : Semi-Precious
Thickness : 18 mm
Base Stone : Makrana White
Area in sq. ft. : 5.80

Floral designs and patterns that trickle with the grandeur of an imperial bygone epoch characterize this rectangular table top as a precious piece of Indian craftsmanship and creativity. The base stone, Makrana White Marble, in itself is a miracle of nature.